Vehicle fleet at Glen Dimplex Deutschland: Starting signal for electromobility.
3 min read
The Kulmbach-based company Glen Dimplex Deutschland stands for sustainability with its products and its entire corporate culture. Now Glen Dimplex is also focusing on environmental and climate protection in the area of mobility. The vehicle fleet is to be successively converted to vehicles with climate-friendly drive systems.
A Skoda Enyaq heralds the turn of the era and drives entirely without fossil fuels. What's more, the electrical energy used to power the vehicle also comes from renewable sources. The company's four charging columns in front of the Glen Dimplex Forum draw their power from one of the photovoltaic systems installed on the roofs of the company's buildings.
"We are thus taking another consistent step toward aligning our company with the requirements of a sustainable world."
Employees' company cars can now also be converted to electric mobility - at better conditions than for combustion cars. Employees also have the opportunity to test the electric car for an initial period of ten days.
"We will continue to invest in electromobility in the future and thus gradually convert our vehicle fleet," Heiko Martin continues.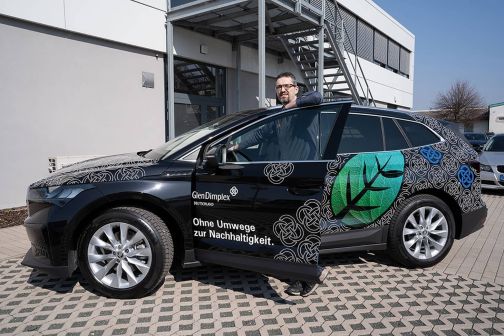 Heiko Martin (Head of HR Service) presents the first electric car in the Glen Dimplex Deutschland fleet at the Forum in Kulmbach.
Glen Dimplex Deutschland makes significant contributions to the most environmentally friendly life and economy as well as sustainable climate protection. Heat pumps and ventilation and cooling systems from GDD help with climate-friendly heating, cooling and ventilation.
"We also work every day to focus even more consistently on the sustainability of our entire process chain, from supply to recycling at the end of a product's life."
Glen Dimplex Deutschland, for example, has also switched the company's energy supply to green electricity from renewable energy sources.
"Even seemingly small activities such as a company-owned bee colony or a new bicycle parking lot including charging facilities for e-bikes pay into the account of a sustainable company," emphasizes CEO Clemens Dereschkewitz.
Unternehmensinformationen
Glen Dimplex Deutschland is part of the internationally active Glen Dimplex Group, headquartered in Ireland - a leading global supplier of electric heating solutions and household appliances.
Glen Dimplex Deutschland combines the group's global knowledge and expertise in the development of highly efficient system solutions for heating, cooling and ventilation of buildings, as well as commercial and industrial applications and supplies the Dimplex, Riedel Kooling and Koolant Kooling. As well as the headquarters in Kulmbach, Glen Dimplex Deutschland also has subsidiaries in Kalamazoo (USA) and Shenyang (China). The company is managed by CEO Clemens Dereschkewitz and Heiko Folgmann - Director of the Business Unit Heating and Ventilation.
At its HQ in Kulmbach, Glen Dimplex has stood for expertise in heating and refrigeration for over 40 years. This is where energy-efficient heating and air-conditioning systems are designed by our engineers and technicians at our in-house Development department and perfected to market maturity. Products from Glen Dimplex are a byword for engineering expertise, quality and "Made in Germany" design. Glen Dimplex Deutschland's worldwide locations employ around 1,200 people.