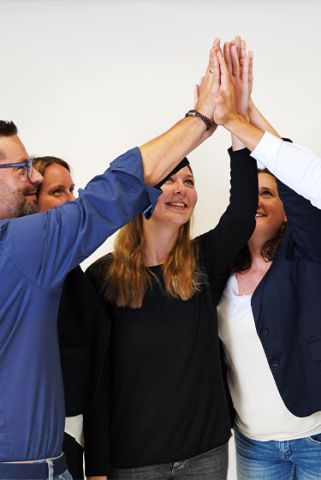 This is what we stand for.
To be a leader in the transition to a sustainable world.
Sustainably & future-oriented - this attitute guides us every day in building and developing products that will empower our customers on their paths to a sustainable future. A clear corporate purpose and fundamental corporate values are the basis for our daily thinking and acting and shape our unique culture: we are open, we value the people we are working with and we create simple solutions. Innovation drives us and everything we do. We are a globally networked company and part of the family-owned Glen Dimplex Group, Ireland.
DISCOVER OPEN ROLES
Glen Dimplex Deutschland: key facts.
Kulmbach site. Employees.
At our headquarters in Kulmbach, there are currently around 1,000 employees who make GDD one of the leading suppliers of innovative heating, cooling and ventilation solutions. We offer a broad variety of tasks at our Kulmbach site - from production and logistics as well as R&D or laboratory to service, sales and administration - all departments work hand in hand.
Glen Dimplex Group. Global.
Founded in Ireland in 1973, Glen Dimplex Group is a global leader in intelligent electric heating systems and renewable energy solutions with approximately 8,000 employees. The 4 divisions of the GD Group have significant global market positions: Heating & Ventilation, Customer Appliances, Flame and Precision Cooling. The GD Group serves customers with efficient, sustainable solutions - worldwide.
Two strong brands.
Dimplex offers sustainable and innovative solutions for electric heating, heat pumps, domestic hot water and ventilation, thus providing comprehensive climate solutions for the electrically powered home of the future.

Riedel Kooling develops sustainable, individual cooling solutions for a wide variety of applications in the professional environment, from laser machines to magnetic resonance tomographs to 3D printers.
Learning from the bottom up.
Around 55 young talents are completing their training at Glen Dimplex Deutschland in Kulmbach. They are an integral part of their team and in daily projects from the very beginning and take over more and more responsibility each day.
We also offer opportunities for students, e.g. a work-study program, topics for a master's or bachelor's thesis, or working as a student trainee.
Working internationally at Glen Dimplex Deutschland.
Regional roots. Global outlook.
Glen Dimplex Deutschland is part of the internationally operating Glen Dimplex Group, headquartered in Ireland. Glen Dimplex Deutschland concentrates the Group's know-how and expertise worldwide to develop highly efficient system solutions for heating, cooling and ventilating buildings as well as commercial and industrial applications under the Dimplex and Riedel Kooling brands.

Two of the four Group divisions are located in Kulmbach: Heating & Ventilation with the Dimplex brand and Precision Cooling with the Riedel Kooling brand. Both divisions work closely together with international subsidiaries and distribution partners. We are activey working with our international network - a huge benefit for our customers and partners and an enriching experience for the whole GDD staff.
"Through our international collaboration, we leverage synergies and overcome global challenges."
Michael Landgraf
Chief People Officer, Glen Dimplex Deutschland
At home in Kulmbach.
With around 1,000 employees at the Kulmbach site, Glen Dimplex is one of the largest employers in the region. The district town Kulmbach is located in the middle of Upper Franconia, between the Franconian Forest, Fichtelgebirge, Franconian Switzerland and Obermaintal. Kulmbach currently has a population of around 26,000. The town's landmark - the Plassenburg - is one of the most impressive castle complexes in Europe and a popular destination for excursions thanks to numerous cultural offerings and various museums. Kulmbach is known for its diverse brewing and beer culture and thus enjoys the world reputation "secret capital of beer".
Directions.
Thanks to the freeway connection, you can quickly reach Bayreuth (approx. 25 min.), Bamberg (approx. 45 min.), Nuremberg (approx. 1.5 hrs.) or Munich (approx. 2.5 hrs.). Sufficient parking spaces are available at the location - both for employees and visitors.
SEE GOOGLE MAPS
Recreational opportunities.
In addition to excellent career opportunities, Kulmbach offers a varied range of leisure activities. Whether mountain biking or hiking after work (e.g. on the Main cycle path), shopping tour in the city center or a short trip to nearby cities. You can find it all right on your doorstep.
TOP 10 SIGHTS
Housing market Kulmbach.
What is increasingly becoming a problem in big cities is a real advantage here: finding nice apartments or a house is no problem at all and the general cost of living is comparatively low (rent/m2 approx. 5-7 euros vs. big city approx. 16-18- euros).

CHECK OUT
Your personal contact.
Do you have any questions about Glen Dimplex Deutschland, career opportunities and what defines us? We will be happy to answer all your questions by mail ([email protected]), on the phone (Melanie Bloch-Schönthier +49 9221 709-8334 | Lisa Hirschmann +49 9221 709-8482) or via our social media channels.
What else might interest you: