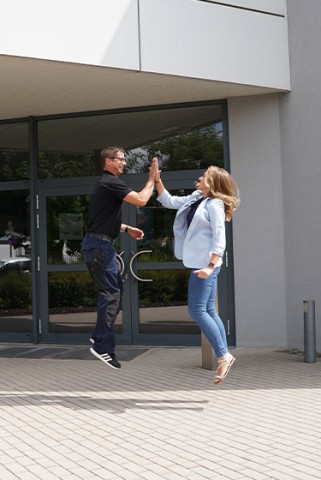 Jobs & application process.
Just a few more steps to your new dream job. Here you'll find all important information about vacancies, application process, unsolicited applications and contact data.
Step 1: Be brave.
Throw yourself into a new professional challenge! Our job portal is full of exciting new tasks. Choose your new dream job and fill out our online application form. Alternatively, you can also apply by mail: [email protected]
Step 2: Cross your fingers.
We check your application. Personally, carefully and together with colleagues from the specialist department. We know how much work goes into an application - and how eagerly you wait for feedback. We therefore make every effort to give you feedback as quickly as possible.
Step 3: Get to know each other.
If your documents have convinced us, we will invite you for a personal interview to get to know GDD, the team and your potential new area of responsibility. In one or two interviews, we will exchange ideas and clarify the most important questions about your new job.
Step 4: Goal in sight.
If our initial meeting went well and we all agree that we want to work together, we will discuss all important details for the employment contract.
Step 5: Let's get started!
Your career with GDD starts with an introduction day and a broad induction program in your new field of activity. Welcome to the GDD team!
"A good application is, above all, authentic. After all, we want to get to know each other and see if we can work well together. Therefore: Be yourself!"
Selina Robinek
Recruiter for Glen Dimplex Deutschland
Not found a suitable job yet?
No problem! We also welcome unsolicited applications. After all, our company is constantly evolving - perfect if we get to know exciting people who might open up completely new opportunities for us!

The easiest way to send us your application is via our online application portal. Or send an email to [email protected]. Alternatively, you can also use our JOB ALERT to be informed about new jobs that match your profile.
FAQ - Frequently asked questions on applications.
As a company with focus on sustainability, we prefer to receive applications via our online application portal. 
Alternatively, you can also send your documents by email: [email protected]
– Letter of motivation
– Curriculum Vitae
– Testimonials & certificates

Important: don't worry. If we are missing documents, we will contact you and you can simply submit them later.
Yes please! Our company is constantly developing, so we are always happy to meet exciting people who may open up completely new opportunities for us.

You can submit an unsolicited application via our online application portal - or you can be informed by our Job alert if a suitable position is open.
The transmitted data is stored in our application system and automatically deleted after the application process has been completed.
No, please only apply for one position and note in your covering letter that an alternative position is also of interest to you.
If you need to add documents to your application, please send them to us by e-mail: [email protected].
We update our job postings on a regular basis. All advertisements that can be found on our careers page are still available
We have a very open and collegial way of dealing with each other. Many of our employees are on a first-name basis.

It is important to us to treat each other with respect, so we currently leave it up to our employees to decide whether they prefer to be addressed as "Du" or "Sie" in German language.

A small tip: In the application process and before the first meeting, addressing each other as "Sie" in German language is welcome - both in the application documents and in conversations. This note only concerns our German-speaking colleagues.
Job Alert.
You want to become part of our team but the right position is not vacant at this time? Simply register for our Job Alert - as soon as there is a vacancy that fits to your search criteria you will be notified by mail.
Personal contact.
We make time for you.
We appreciate the work that goes into an application and are therefore happy to take the time to clarify open questions about GDD, the application, current job offers and so on... even in advance.

You can reach us by phone (Melanie Bloch-Schönthier +49 9221 709-8334 | Lisa Hirschmann +49 9221 709-8482), by mail ([email protected]) or via our contact form.