The well-founded specialist training is a key pillar of our success and is given particular importance in the company.
3 min read
Glen Dimplex Deutschland has received an award once again for its high quality professional training.
The IMWF (Institute for Management and Economic Research), in cooperation with the HWWI (Hamburg Institute of International Economics) has now added to Kulmbach-based company to the renowned ranking "Germany's best training companies 2022.  
The award was based on around 400,000 nominations on social media for around 20,000 of the biggest German companies identified and assigned at the end of last year. The assessed companies also had to apply by completing a comprehensive and structured online questionnaire.
"The market for heating, cooling and ventilation is growing strongly. That is why we have a high demand for qualified specialists and managers. Well-founded professional training is a supporting pillar of our success and has special significance."
As a 'Global Player' and leading provider of environmentally-friendly solutions for heating, cooling and ventilation, Glen Dimplex Deutschland offers a workplace in a sector of the future; the salary for apprentices is extremely high compared with the IG Metall tariff; our apprentices can take advantage of flexitime; the company has its own restaurant, offers sports groups, among other things, and membership for fitness studios at reduced rates". Lauterbach continues: "Great importance is placed on a sense of community and solidarity among the apprentices. The atmosphere in the company is extremely positive. Right from the start: Right from the first introductory workshop, they learn a lot about team work, the purpose of feedback and how to communicate positively.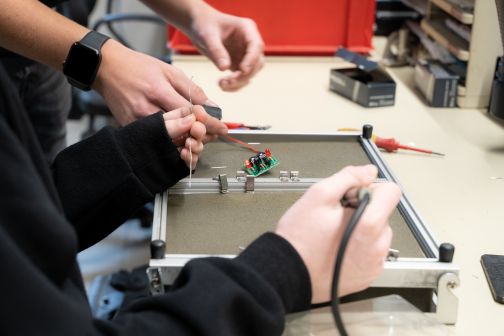 Trainees at Glen Dimplex's in-house training area.
Particular advantages of the training at Glen Dimplex include the "learning time" corridor established years ago: On Friday afternoons, apprentices can use the training area to learn together and practice. The apprentices help each other with open questions in small learning groups. Trainer Helmut Lauterbach is always on hand to offer the young workers help and advice. The results of this high-quality training are clearly visible: The apprentices are regularly among the best in their year in the whole of Bavaria. Last year, 19 year-old Luca Grasi received the coveted Rolex prize with an average mark of 1.0. This prize is awarded every year by a representative from Rolex to the top apprentices at the Hans-Wildorf vocational school in Kulmbach.
"In our learning workshop, our apprentices work on projects required for the daily business. From the very first day, they are involved in the value creation process at Glen Dimplex Deutschland. Their work is necessary and valuable."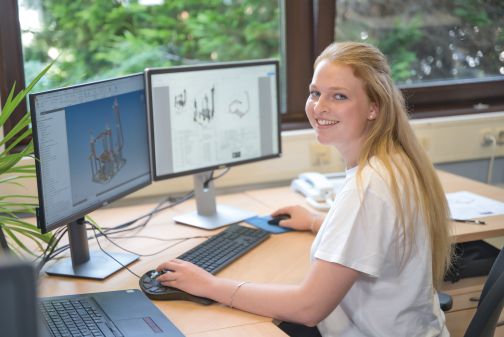 Anna Rauterberg, technical product designer trainee.
50 apprentices are currently being trained in eight commercial and industrial professions. They have chosen an apprenticeship for the profession of IT specialist system integration, warehouse clerk, industrial clerk, marketing communication clerk, mechatronics engineer for refrigeration technology, technical product designer machine and plant construction, electrician for operating technology or industrial mechanic. Eight young colleagues are also completing a dual studies course in the fields of mechanical engineering, building and energy technology or international technical sales management.