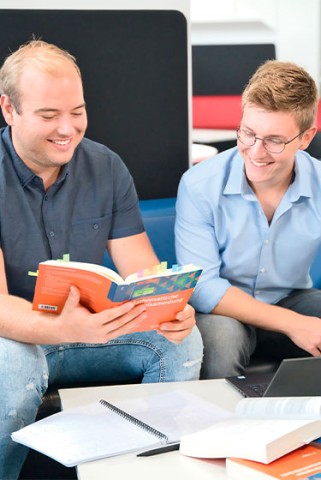 Your foundation for the future: a dual study program at GDD.
At Glen Dimplex Deutschland, we offer a wide range of opportunities - whether as a student trainee, as part of a thesis or as part of a dual study program. Right from the start, you will be involved in important tasks & projects and thus gain both theoretical and practical experience alongside experienced experts. You will have detailed insights into all work areas and get to know the processes in the company.
APPLY NOW
Work-study program at Glen Dimplex Deutschland.
What to expect.
At Glen Dimplex Deutschland, we combine theory with practice. You have the choice between two exciting and challenging courses of study: Mechanical Engineering or Industrial Engineering with a focus on International Technical Sales Management.
You will be an active part in your specialist department, work on your own small projects and be able to put your learnings into practice, test them and use your own experiences for theoretical education.
Our offer for students & prospective students.
International technical sales management.
Work-study program.
Mechanical engineering.
Work-study program.

Working students.
No theory. Experience real working life.

Write your bachelor's/master's thesis
Supervised by real experts.
An interview with Felix Schmidt.
International Technical Sales Management.
The work-study program teaches profound business knowledge and gives you a broad spectrum of technical know-how. You will learn how to respond to customers, identify problems, offer solutions and activate the various corporate functions to realize customer wishes. Felix completed the study program at GDD. Check out the video to hear about the highlights (German only).

The fact check.
– letter of motivation
– Curriculum vitae
– last annual report & other qualifications
Important: don't worry. If we are missing documents, we will contact you and you can simply submit them later.
After receiving and reviewing your documents, we will invite you to one or two interviews.
If you convince us in the interview, you will receive an acceptance letter as soon as possible, including an invitation to our get-to-know-evening, where you can meet your colleagues.
After receiving and reviewing your documents, we will invite you to one or two interviews.
Here we will clarify with you the duration of the assignment, the department and the upcoming projects.
If we find a match, you will then receive your contract and start directly with exciting tasks at GDD.
The monthly remuneration for our dual students is:
- 1st year of study: 1,500 euros
- 2nd year of study: 1,600 euros
- 3rd year of study: 1,700 euros
During your studies, you will work in numerous departments of our company (e.g. sales, R&D, etc.). Here you will become familiar with the day-to-day business and work on interesting projects. The practical assignments last between 1 and 6 months, depending on your studies and semester.
No, we are very flexible regarding the duration of your assignment. We are happy to comply with your wishes.
Our interns have a full-time week with 35 working hours. In addition, you participate in our flexitime scheme. You are therefore very flexible in the organization of your working hours. GDD also offers the possibility to work from your home office.
We have a very open and collegial way of dealing with each other. Many of our employees are on a first-name basis.

It is important to us to treat each other with respect, so we currently leave it up to our employees to decide whether they prefer to be addressed as "Du" or "Sie" in German language.
 
During the application process and before the first meeting, addressing each other as "Sie" in German language is welcome - both in the application documents and in conversations. This note only concerns our German-speaking colleagues.
A small tipp: we recommend starting with a "Sie" in German language to our new interns, trainees and students. Best wait if you are offered adressing colleagues as  "Du".
We are at your side with advice and support.
Your contact.
Our training managers Helmut Lauterbach and Melanie Bloch-Schönthier are at your side before, during and after your training at GDD. They are your first contact and support you to successfully master your path at GDD.


We are happy to answer your questions.
Do you have any questions about apprenticeships at Glen Dimplex Deutschland, a study program or an internship? Or what makes working at Glen Dimplex Deutschland so special? Simply contact us via the contact form.

ASK A QUESTION