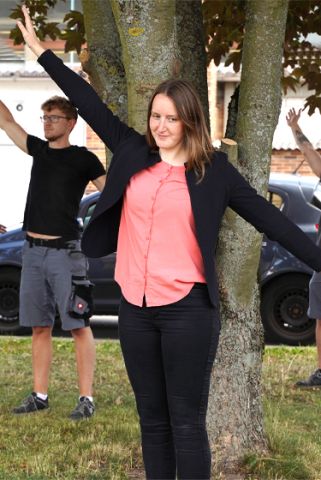 Our employees' health is important to us.
Healthy employees are not only happier and more satisfied at work, but also make companies more successful. Therefore, a well balanced ratio between work and relaxation, physical effort and recreation is a natural part of our company culture. We have been awarded with the gold certificate "Healthy Company" by the AOK Bayern as well as the "Excellence" seal of quality by the Corporate Health Awards 2022 for our systematic and innovative commitment in the area of company health management (OHM).
Multiple awards for OHM.
"Excellent!" the jury said.
After being awarded with the Gold certificate by AOK Bayern in December 2021, Glen Dimplex Deutschland has now been honored with the "Excellence" seal of quality by the Corporate Health Awards 2022. An expert board has thoroughly examined GDD during an audit and confirms that the company takes outstanding care of its employees, provides a wide range of individual services and promotes a general culture of health structurally and strategically.
"At Glen Dimplex Deutschland, the focus is on people, so employee health is very important and is specifically supported through numerous campaigns."
Dr. Heinrich Behrens
Company Physician
Achieving balance: our health program.
Moving break
We meet every week - preferably outside - for 15 minutes of loosening, stretching and strengthening. The goal is to enhance mobility, strengthen the muscles and thus prevent tension and pain.
Qigong
Twice a week our Qigong teacher William offers short live online fitness sessions to join from your personal workplace. The goal is to promote mental balance and physical health on a long-term and sustainable basis.
Yoga & relaxation
We offer relaxation classes like yoga, physical therapy or massages on a regular basis. The classes are held on company premises and can be integrated in the daily work routine during a break quite easily.
Sports groups
No matter if biking or running, "Stadtradeln" or coming to work by bike - everyone who wants to join one of our sports groups is very welcome to do so. Our GDD running group has already celebrated its first success during the Kulmbach "Altstadtlauf"!
Fitness club cooperation
GDD employees can use the local fitness club at very attractive conditions thanks to our cooperation.
Personal counselling
Stress, nutrition, drug prevention or giving up smoking - just a few of the topics where our company's social counselling can assist our employees.
Medical check-up & vaccination
Together with our company physician we offer a range of preventive health examinations, e.g. a cardiovascular check-up or cancer screenings; as well as influenza or covid vaccination.
Operational integration management
Together we develop interventions and solutions to get over incapacity for work, to prevent future inability for work and search for possibilities for a healthily continued employment.
Occupational Health Management Team.
Your contact.
Our health management team looks after the physical and mental health of our employees. May we introduce you? From left to right: Christoph Zimmermann (OHM & Occupational safety), Dr. Benjamin Dörr, Helga Knopf (Social counsellor / OHM) and Dr. Heinrich Behrens (Company Physician at Glen Dimplex Deutschland).