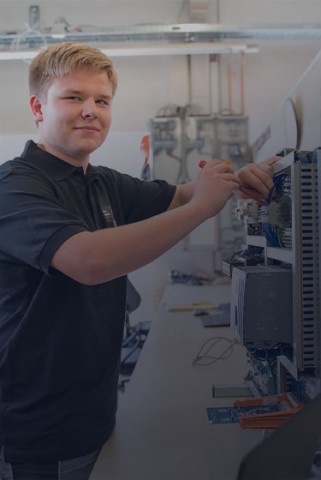 Apprenticeship & Internship.
Accumulated competence for cooling and heating in intelligent system solutions for maximum efficiency. From ventilation and temperature management in buildings to precision cooling of machines and processes. An apprenticeship or internship at Glen Dimplex Deutschland will enable you to work for the future of our planet from the very beginning.
Be your own hero! Get started as trainee or intern at Glen Dimplex Deutschland.
We offer first-class education or guiding internships in an innovative, growth-oriented company with an international focus. Are you future-oriented, decisive and prepared for constant development? Then we would like to get to know you!
Why start an apprenticeship at GDD?
Shape the future.
We are in the midst of the energy and heating transition. And with our products we are working for a sustainable future every day.
Get involved.
You will join important projects and work independently from the very beginning.
Learn from the best.
We are one of Germany's best tranining companies.
Earn fairly.
We offer a tariff salary, Christmas and vacation bonus, capital-forming benefits and and extra bonus for good vocational school grades.
Regular recreation.
You can join our frequent sports activities and profit from discounts in the fitness club.
Excellent training.
GDD is Germany's best training company.
Glen Dimplex Deutschland has already received several awards for the high quality of its vocational training. The IMWF Institute for Management and Economic Research, with scientific support from the Hamburg Institute of International Economics, has once again included the Kulmbach-based company in its prestigious ranking of "Germany's Best Training Companies 2022".
Are you a student or plan on studying?
There are exciting career opportunities for you as well: you can enter a work-study-program, work as a student trainee or write your final paper on a practical topic.
The right one for everyone: our apprenticeships at a glance.
What is it like to be an apprentice at Glen Dimplex?
Have a look behind the scenes: Jonas, Florian, Constantin and Nick present four of our training professions, tell us about what is the fun part in their apprenticeship, talk about the working atmosphere at Glen Dimplex and which skills are most important for their jobs.
Jonas Hohner on training at GDD.
Warehouse logistics specialist.
Jonas has already successfully completed his training as a warehouse logistics specialist at GDD. He is especially enthusiastic about the diverse tasks and the great team spirit. Find out why he decided to train at GDD in the video (German only).
Interview with Florian Kürzdörfer.
Mechatronics technician for cooling technology.
Craftsmanship, technical interest and a structured working method are key if you decide to train as mechatronics technician for cooling technology - as Florian did. He especially likes the diverse tasks from soldering to hydraulic and refrigeration pipework to technical testing. That's not all: after his apprenticeship he will go on to start his dual studies in energy and building technology with us. Check out the video (German only).
Constantin Thoma on working in the GDD family.
Electronics technician for industrial engineering.
Control and regulation technology is at the heart of every technical system. Knowing what it takes to make everything from small device to large plant systems run perfectly is what Constantin Thoma learns during his apprencticeship as electronics technician for industrial engineering. See more in the video (German only).
Nick Wildgrube in a diverse job.
Industrial mechanic.
Being a future industrial mechanic, Nick Wildgrube has a very broad field of activity already today. He is responsible for the maintenance of tools and equipment throughout the whole company grounds - and therefore gets in contact with many colleagues and topics. Tool manufacturing as well as working with various materials need different techniques and activities as well. This will not get boring for sure! Watch Nick in the video (German only).
The fact check.
- letter of motivation
- Curriculum vitae
- last annual report
- other qualifications
Apprenticeships start every year on September 1st. You should have sent us your documents by the end of November of the previous year at the latest (i.e. almost a year before the start of training).
The monthly remuneration for our trainees is:
– 1st year of training: 1,035 euros
– 2nd year of training: 1,089 euros
– 3rd year of training: 1,160 euros
– 4th year of training: 1,207 euros

We also offer capital-forming benefits (for retirement provision), vacation pay, a Christmas bonus and public transport fare to vocational schools away from home. As an additional incentive, there are success bonuses for good and very good vocational school grades.
- 35 hours per week with flexitime
- 30 days vacation per year
Kulmbach: 
Industrial clerks, mechatronics for refrigeration technology, industrial mechanics

Lichtenfels: 
Technical product designer
Kronach: 
Electronics technician for industrial engineering
Our offer for employees and trainees is regularly developed further. Among other things, we offer company sports, discounts at the gym, or first-aid courses, for example.

In addition, there are advantages such as the "learning time" corridor, which was launched years ago: Our trainees can use the training area every Friday, between 1:30 and 3:30 p.m., to learn together and practice hands-on. In small learning groups, our trainees help each other with open questions.

Trainer Helmut Lauterbach is on hand to offer advice and support. The results of our high-quality training are impressive: Our graduates are regularly among the best in their year.

Of course, regular team events are also a must.
Including all apprenticeship years: approx. 55 apprentices.
After successful completion of the apprenticeship, we guarantee that you will be taken on.
We have a very open and collegial way of dealing with each other. Many of our employees are on a first-name basis.

It is important to us to treat each other with respect, so we currently leave it up to our employees to decide whether they prefer to be addressed as "Du" or "Sie" in German language.
 
During the application process and before the first meeting, addressing each other as "Sie" in German language is welcome - both in the application documents and in conversations. This note only concerns our German-speaking colleagues.
A small tipp: we recommend starting with a "Sie" in German language to our new interns, trainees and students. Best wait if you are offered adressing colleagues as  "Du".
Preparing the ground.
An internship or holiday job at GDD.
You don't know yet what your way after school should look like? Or which profession is the right one for you? Then simply do an internship with us. We offer you insights into different departments and occupational fields. This way, you can easily find out what interests you most and what might suit you. We also offer to do a holiday job with us during the time when you are not at school or studying. Just send us your unsolicited application!
We are at your side with advice and support.
Your contact.
Our training managers Helmut Lauterbach and Melanie Bloch-Schönthier are at your side before, during and after your training at GDD. They are your first contact and support you to successfully master your path at GDD.

We are happy to answer your questions.
Do you have any questions about apprenticeships at Glen Dimplex Deutschland, a study program or an internship? Or what makes working at Glen Dimplex Deutschland so special? You can simply contact us via the contact form!