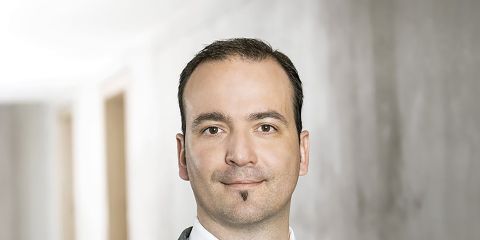 Sascha Paulus: New Business Unit Director for Riedel Kooling
1 min read
Sascha Paulus leads the cooling business unit at Glen Dimplex Deutschland.
Kulmbach. Since 1st of March 2021, Sascha Paulus is the new Business Unit Director for cooling at Glen Dimplex Deutschland (GDD).

He brings in more than 16 years of international market experience in the field of sustainable cooling and heat pump solutions and has extensive specialist know-how in sales, project planning and product management, international distribution management and business development.

After studying energy supply engineering in Cologne, Sascha Paulus began his professional career as a project engineer for cooling solutions with Glen Dimplex. He then spent some time working for Glen Dimplex in the USA, where he was responsible for process optimisation and the transfer of a new production line. After returning to Germany, he was director of sales for industrial cooling business.

From 2011 to 2016, Sascha Paulus was the head of product management for the cooling division KKT chillers at ait deutschland GmbH in Kasendorf.

Most recently, Paulus worked for the Mannheim-based refrigeration and cooling specialists Rütgers GmbH & Co KG as branch office manager and was responsible for high power cooling and heating projects as well as for the absorber unit business.

After having gained more than 10 years of additional experiences in diffrent branches of the cooling business the 41-years old Sascha Paulus is now coming back to Glen Dimplex in order to develop the cooling business with customer-focused and innovative solutions.

"We are delighted that with Sascha Paulus we could win an expert in the cooling business for this position and we are convinced that with all his strong expertise he is going to lead our new business unit cooling to the best success", says GDD Managing Director, Clemens Dereschkewitz.


This press release in Word or PDF format as well as the image material can be downloaded here:
Press release (PDF-Doc.)
Press release (Word-Doc.)
All files as a combined file can be downloaded here.
Contact
Henrik Rutenbeck, Director Marketing
E [email protected]
M +49 151 571 37 570

Anja Fischer: New Marketing Director for Heating & Ventilation.
On 1st March, 2021 Anja Fischer joined Glen Dimplex as new Marketing Director for the Business Unit Heating and Ventilation.
1 min read